Detect the smallest defects on painted surfaces using Shape from Shading
Topics
3D Inspection
Surface Inspection
senswork VisionCommander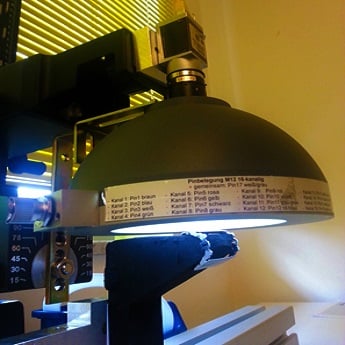 Application and Solution
After the painting process, polymer parts are subjected to fully automated surface inspection by a shape-from-shading system prior to further processing. This method reliably detects the smallest surface defects such as paint pecks, scratches, inclusions, lint, or other raised or recessed defects.
For this purpose, our system uses eight illumination directions with corresponding eight partial images, which are computed by Shape from Shading to form a height map of the surface. The evaluation is done in the powerful image processing software VisionCommander®.
Learn more about VisionCommander®.
Tasks
Detection of paint spots
Recognition of damage
Recognition of scratches
Recognition of lacquer runners